Our current delivery/work schedule: Belts - 3 to 7 days Bags - 6 to 14 days MTO - 14 to 21 days Rush orders are accepted, but may involve a small fee...please email mto@rlmakers for more information
---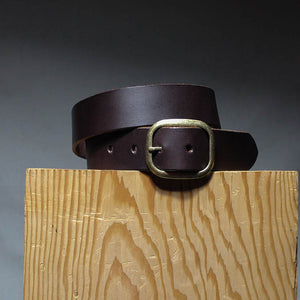 The response to our 'Everyday' belt has been fantastic - thank you All!   We originally thought this belt would be a great gift item, especially for a couple of groups we have worked with, and decided to promote it as a 'Holiday' item.  Our local customers/orders were mostly just that, but it seems the vast majority of our on-line orders were personals.  And, based on DM's and emails received, some didn't catch the original making and shipping schedule that was in the listing.  Perfectly understandable! I've decided to just ship each evening now, instead of 2 bulk shipments.  That...
---
So, I've recently jumped into something I've always admired from afar but have been afraid to do - leather tooling/stamping/carving work.  Just like the painting and staining I have always done, this is still another challenge in a quest to 'personalize' the products I make and create unique pieces that may speak to my customers as well.  I don't really have a huge interest in the traditional floral & vine  tooling that most Western makers, or Saddlery Shops, create, but I do love the technique and am searching for my own 'vision' in the medium.  At the very least it's...
---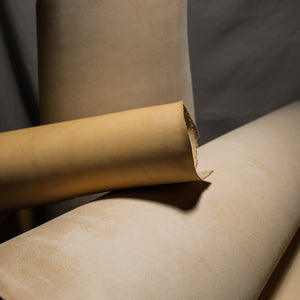 There is no shortage of belts available on the market these days, but there is a tremendous variety of 'makes' - from the most basic one-piece strap with buckle to the more complex carved, ornamented, multi layer and stitched designs.  All have a place and function (and subsequent prices), but my own opinion is that the most 'solid' belt - the one that you'll grab the most often and for the most years before replacing - is on this build: - Full Grain, Vegtan Face (cut from either the shoulders or the butts) at around 3mm thick - Full Grain,...
---
We have finally got the new workshop (almost...hoping the cold weather doesn't arrive early!) completely moved in, set up and running at a decent pace.  Most of the work on our punch list concerns belts.  When we had the retail shop, as many know, we had a large selection of stock belts on-hand, and always were working on custom ones in addition - and we need to get back to that place on the website this Fall.  We have been working on many new patterns and leathers since those days, and each week there should be new updates on the...